Information reference for media decision makers in the advertising and communication sector
Since 2005, 100%Media is the reference of information for media decision-makers and publishes the only site in France to provide free of charge to the advertising market the main data to help advertising investment: advertising rates of all media, studies, contacts of advertising agencies. 100%Media is a daily newsletter sent free of charge to 35,000 recipients.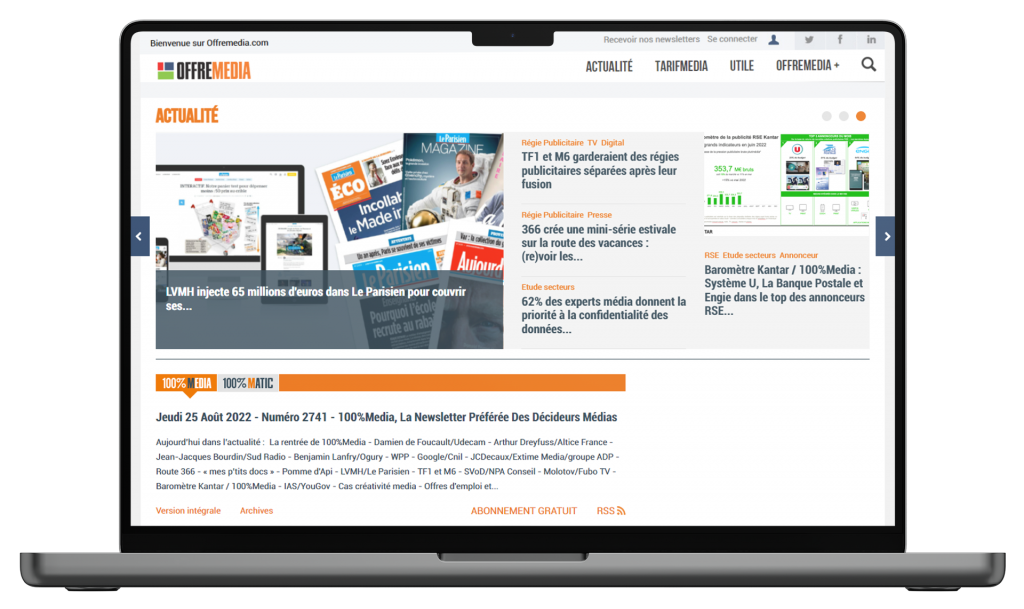 It informs advertisers, media agencies and advertising departments about current marketing, research and media news.
100%Media also organizes events, including the Media Agency of the Year Award for France and the Studies and Innovations Trophy, and also organizes white-label events for our partners (Audio Moves, Innov Aud.io). Since January 1, 2021, Offremedia has been part of the Adwanted Group. In 2022, Offremedia will become 100%Media – The Media Leader.
The ACPM delivered in early January 2022 the results of its audience study on professional communication media. Respondents read an average of 7 sources of information via 5 different access modes, according to the study. 100%Media is in the lead on all criteria, remains the leader on media agencies while cultivating its power on strategic targets.